Greetings friends and welcome to the FIRST inspiration post of 2013!! Those of you who followed us last year know the inspiration post is my monthly chance to share with you themed things that help spark my imagination (and hopefully yours)! I've never outgrown my fascination with carousels. This month's theme, "Crazy for Carousels," showcases my love for the elegant and spinning amusement rides found all over the world!
Like most little girls I was OBSESSED and even own my own mini musical carousel that I received as a gift years ago from the San Fransciso Music Box Catalog! I still find myself fascinated when I come across one at a fair or amusement park and given the chance I would totally take a spin on one to this day. I could get lose all day showcasing the different types of crazy animal seats but I went with your classic pretty horse galloping on it's post for this set.
I figured I would start things off with one of my not-so-guilty pleasures; CUPCAKES! Not just any cupcakes,
Carousel Cupcakes
. . . mmmmm! These elegant and joyful cupcakes were baked up by
Flickr user We Want Cake
. In her description she mentions they were for a little girl's birthday party but I wouldn't mind them at my own!! I love the muted color pallet and the details on each sugary horse is incredible!!
I couldn't bring myself to NOT include it in my post because there is so much in it that inspires me! It's sparkly, full of bows, roses, jewels and stars without feeling too overwhelming. My favorite part is the use of varied types of patterns in a clever manner with a cheerful splash of purple and pink!! This illustration caught my eye when I saw it on
Tumblr
and unfortunately I have no clue who the original artist is. Being an artist myself, I try to be a stickler about that kinda stuff so if you know anything about this illustration please let me know in the comment section and I will include it in the post!!
I had to add this outfit to my carousel post because it is so incredibly unique. This carnival inspired couture was created by Indian fashion designer,
Manish Aurora
for a collection he premiered for the
Spring / Summer of 2009
. Each piece has an imaginative circus flair and is a great demonstration of how inspiration can birth a unique and memorable work of art! I highly recommend you check out the full collection on his website at
http://www.manisharora.ws/spring-summer-09.html
Another great example of an illustrated carousel horse titled,
"Carousel Dreams,"
by
DeviantArt user "MoogleGirl."
The drawing features the traditional idea of a carousel horse with pretty pastels and subtle girly accessories. I love it's swirly, curly mane. This is exactly what I picture in my head when someone says "Carousel," so you better believe I find it inspirational!! If you like this style of illustration be sure to head over to
her official website http://www.tastypeachstudios.com/
complete with it's own shop filled with goodies!!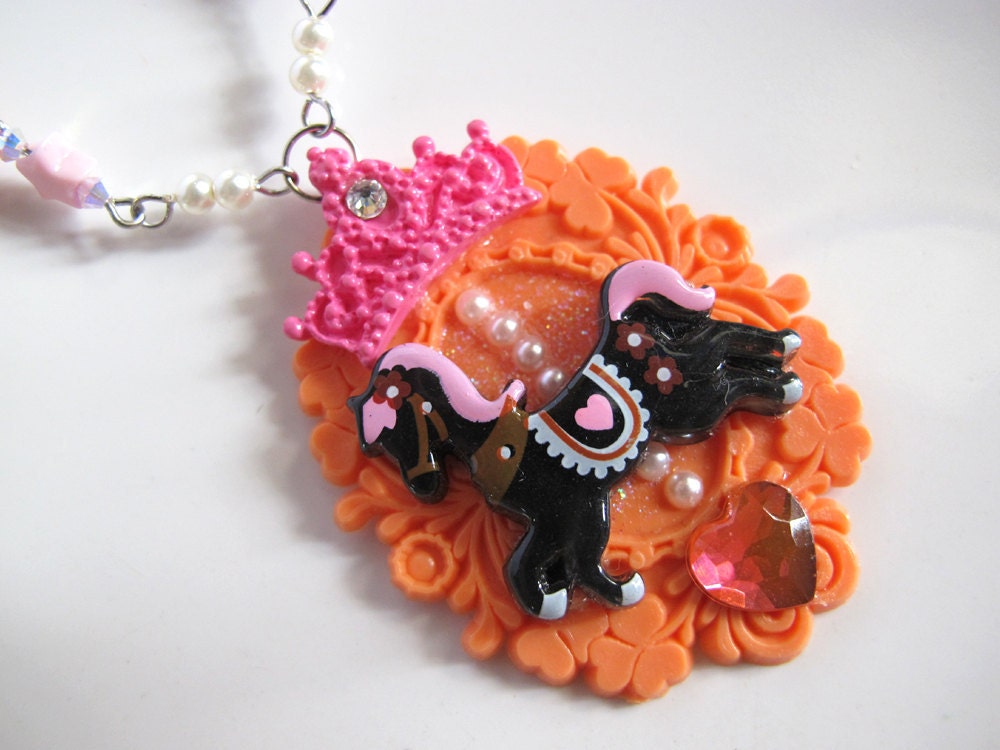 And last but not least, a handcrafted necklace with a unique looking Carousel pendant. I like how this jewelry strays away from the norm. Although a more simple representation of a carousel horse, I find this black stallion with it's cotton candy colored hair really pops on the orange colored cameo background!! It's currently listed on Etsy in
a shop called AnnMichTreasureBox!
Hope you enjoyed this month's "Crazy for CAROUSELS" post!! To check out some BONUS items I that didn't feature but still love I have a
Pinterest board
dedicated to JUST things of all shapes and sizes that inspire my artwork. Just head over to
http://pinterest.com/nerdycupcakes/inspirations/
and you'll even find a few pieces from my previous posts in 2012. Hope everyone has a great week!!