Hey everyone! February is always one of those months that completely passes me by. Here it is already the last day of February!! Which means it's time for another "Inspiration Post," a once a month themed post filled with all sorts of stuff that keeps me inspired. February's theme is, "Ice Cream Cones!" showing off all sorts of creative interpretations of everyone's favorite frozen treat piled high in a crunchy sugar cones!
Ice cream cones are the easiest way to eat ice cream on the go; no spoon or bowl involved for this treat! I'm no stranger to embracing the cold confection in my artwork. Joy Cups are my favorite brand of cone and are made right here in my home state of Pennsylvania.
Cones even have their own Holiday that celebrates the day it was patented back in 1903!
I'm a big fan of desserts and just food in general so it was REALLY tough narrowing my choices down to a top 5 for this post. Scroll down to check them all out!!
I first caught a glimpse of this skateboard at Toys R Us and I'm pretty jealous that I didn't think of it! The concept is extremely clever. 3 scoops of adorable ice cream are about the same shape as the deck of a skateboard so why not just make them INTO a skateboard?? I have no idea how to skateboard but I would buy this in a heartbeat. I like
Raskullz
choices in eye catching sports equipment and I even doodled up
an illustration just for fun featuring their helmets once.
You can purchase this board for yourself off their website:
http://raskullz.com.
This logo makes it's way around Pinterest quite often. It's a great example of typography as well as logo design AND is an actual ice cream cone so I had to include it. The design is so simple yet so brilliant!! The logo itself was designed by
"The Mahoney,"
am online design portfolio for
Patrick Mahoney
. The other designs included on
"The Mahoney" website
are just as impressive as the logo so I urge all you design nerds to check it out at
http://themahoney.com
.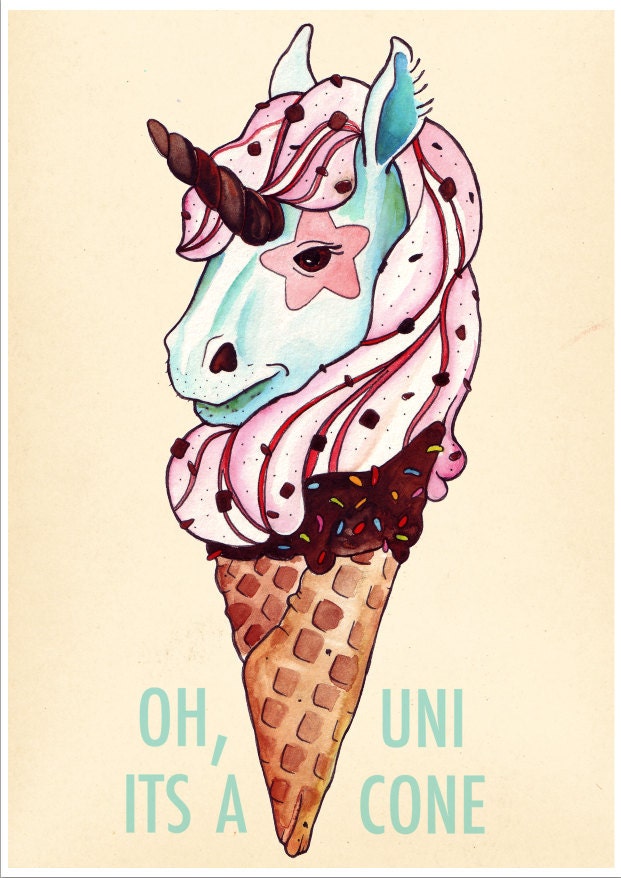 Unicone Print
by
Dea Vectorink on Etsy
Ice cream cones, unicorns and rainbow sprinkles all in one print?? An ode to the waffle cone and to one of my most favorite animals of all, this print has it all! I love the artistic style, the strawberry soft serve mane and the little details such as the teeny tiny little hairs on the unicorn's muzzle. Created by Dea, a tattoo artist from Germany, it is
currently available on Etsy for purchase
in the
Dea Vectorink shop!
If you like this print the shop also carries a few other pieces featuring cupcakes, cookies and other sweets!
I have no idea what the origins of this sculpture / statue is but you can photos of it all over Flickr by searching "Ice Cream Boy." And while many contributors and commenters describe the little guy as scary, terrifying and even disturbing I like him!! If you think about it the statue did it's job, it got people's attention!! It's just too bizarre to pass up for my "Ice Cream Cone" themed inspiration post.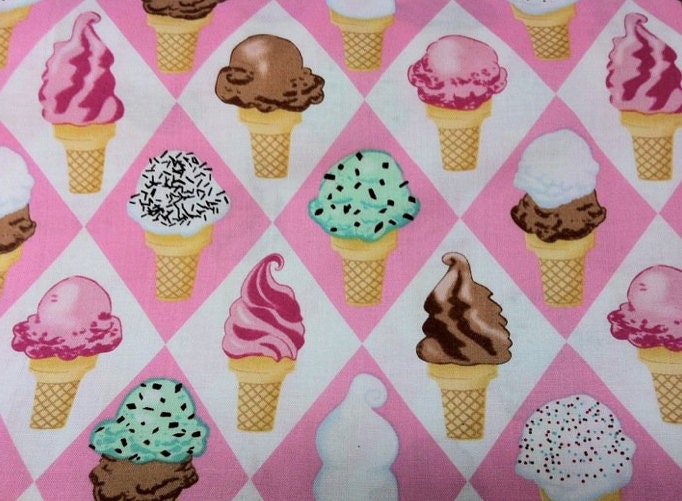 And finally we have a patterned piece textile from
Michael Miller LLC
and sold by the yard by
JeanMariesFabrics

on Etsy
. The print is just an entire repeating pattern of ice cream cones. The vintage looking illustrative quality of the cones with a retro geometric pattern really appeals to me. Not only that it features different types of cones like strawberry and chocolate soft-serve, scoops of vanilla with sprinkles and even mint chocolate chip!
Are those gears in your brain turning now?? I hope this post inspired you to go out and create something wonderful. . . . or maybe it just made you want to eat ice cream!! Either way I hope you enjoyed this month's "Inspiration" post!! Hungry for more? I have a
Pinterest board
dedicated to
"Inspiration"
which always features pieces that I love but didn't make the cut. Just head over to
http://pinterest.com/nerdycupcakes/inspirations/
to check it out!! Hope everyone has a great week!