Hey Everyone!! It is the end of December and the end of the hustle and bustle of the Holiday season, which means it's also time for another INSPIRATION post; my personal picks of striking pieces with a common theme in hopes to inspire YOU each month!! It's been almost day in, day out ice and snow here in the state of Pennsylvania and all I can think of is warm weather, the ocean and of course mermaids!
Mermaids, as I am sure you know, are those fantastical creatures that live underwater possessing the body of a fair maiden and the tail of a fish! They could be good or evil and sometimes even beautiful or ugly. I've always been a fan of fairytale creatures since I was a little girl so I'm bringing in the New Year with a set of five fabulous finned ladies to kick your imagination into gear for 2013!!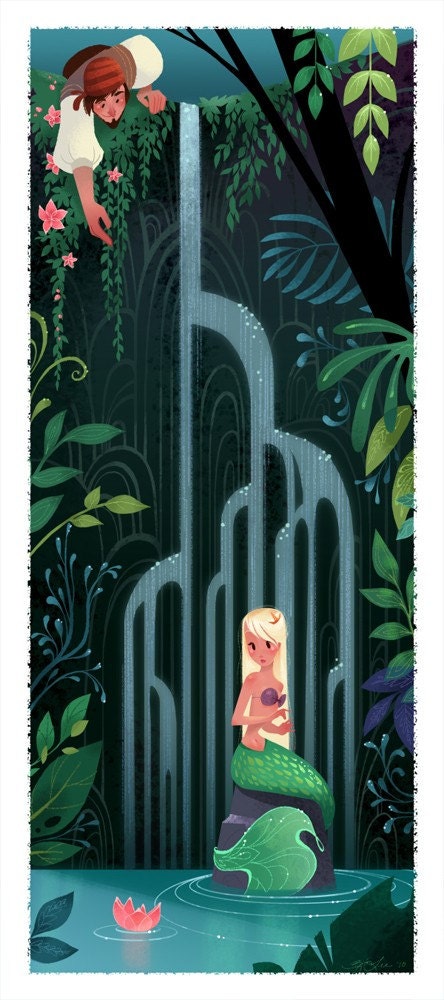 This illustration was actually the catalyst of this month's inspiration post! There is so much I love about this piece!! It depicts an allusive mermaid perched upon a rock in a beautiful lagoon staring at a flower that was dropped into the water by a pirate admirer! The color scheme and style the artist uses is almost is reminiscent of a "Golden Books" story. It's a 7" x 17" print and is
available for sale
in
britsketch's Etsy shop
. Be sure to check out her other pieces as well!!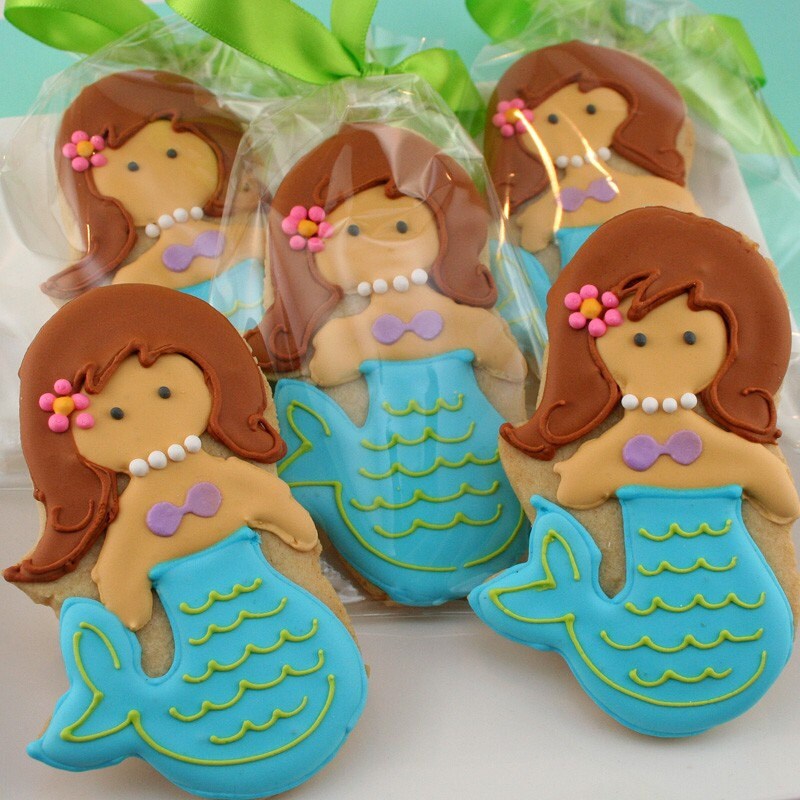 Time for something sweet!! It's almost a law that it isn't an official post on my blog unless I involve food somehow so I had to add these Mermaid Cookies to the list. The simplistic and cute sea creatures are more my speed when it comes to artistic style. I love the simple color pallet and fun embellishments on the cookies!! Even though this photo shows brunette mermaids, the cookies can be customized for your liking when purchased in dozens. They seem to be a big seller and are a re-occuring listing in the
Truly Scrumptious Etsy shop at http://www.etsy.com/shop/TSCookies
When I was growing up the Disney classic the Little Mermaid had just came out. What 90s girl didn't want to be the beautiful voiced and rebellious mermaid Princess Ariel? She dreamed of a day she could be a part of the human world and basically became an undersea hoarder, collecting whatever she could find from the surface. In this stunning digital painting,
artist sakimichan on deviantart
has Ariel finding a pair of modern day headphones!! I love her look of wonder and surprise and the entire underwater feel of the illustration as Ariel's hair flows freely through the ocean!
And last but not least, a very beautiful water color painting by
Liana Hee
of a Silver Koi mermaid. I love the color choices and splashes of silver paint!! There a lot of things that make this mermaid unique, like her scales and her long ebony hair; a refreshing change from all those blond and redhead mermaids! I found it on
her blog
"The Art of Liana Hee"
which includes the original pencil sketch and information about it's gallery showing date back in February!
And that about wraps it up for this month, as well as the year 2012!! I hope my picks inspire you to create beautiful things! Or at the very least gotten your mind off all the ice, snow and sleet that may be outside!! Hope everyone has a SAFE New Years and stay tuned for next month's inspiration post!