It's about that time again! Yep it's the end of the month which means another installment of "What Inspires Laura." A post dedicated to things that inspire me which I can only HOPE bring you, the reader some inspiration as well!!
This month's theme is "Sugary Sweet Wigs." I am a big fan of wigs and sweets so I was sure I could find some inspiration merging both themes together! And sure enough I did! Tons of beautiful yet delicious looking candy-coated wigs all OVER the internet! It was tough to narrow it down to only a top 5 but I managed!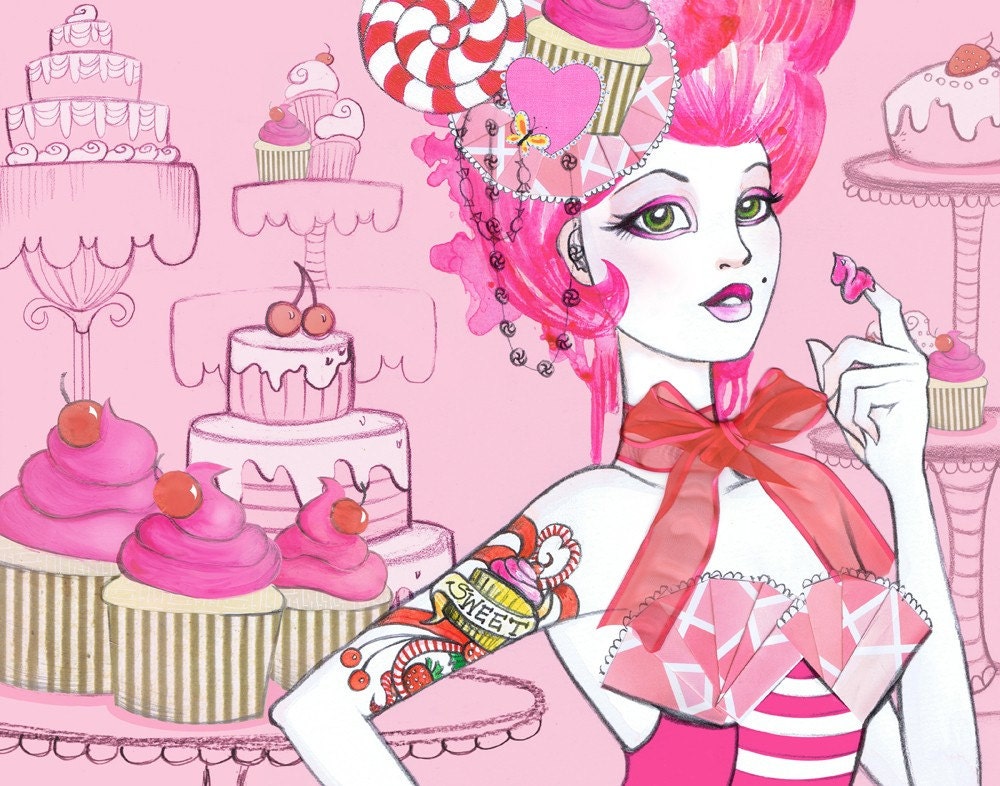 Marie Antoinette Pink Cupcake Print
This is a print available on Etsy by shop owner
LeilaniJoyArt
. I am a big fan of the Marie Antoinette inspired hair. I mean, I've only illustrated my very own
Marie Antoinette inspired party invitations
before! Our girl is a bit of a rebel as she samples some sweets baring a lot of skin and showing off her "Sweet" tattoo in a perfectly pink bakery!! I love the added touch of texture by adding a real ribbon. This print is available for sale so if it speaks to you as much as it speaks to me be sure to
purchase
only on Etsy!
The higher the hair the closer you are to heaven so this girl must be straight up angelic! The photo is a costume by
"Bolli Darling,"
an 18 year old company specializing in unique entertainment and fabulous costumes to add to delight to your next party! The site describes her costume to be "Inspired by Willy Wonka and traditional sweet shops." The wig itself reminds me a lot of an ice cream cone. Check out their website at
http://www.bollidarling.com
This is a long time favorite of mine, a portrait created by Will Cotton. He is the man behind Katy Perry's beautifully painted candy-candy portrait on the cover of her album, "Teenage Dream!" Even though it's not covered in cupcakes it's tangled with ribbon candy, sugar cones and tons of other candy-coated delights that sure look sweet! Get lost in a sugary paradise by visiting his website at
http://www.willcotton.com/
And now the holy grail of all sugary sweet wigs, a wig by
Candyland Courtesan
FILLED with cupcakes! A towering, elegant hair piece stuffed with feathers and cupcakes on top of ringlets of pink curls. Anyone would feel like a character straight out of the Candyland game wearing this!! The photo ads to the fantasy with a matching cupcake corset and sweet treats spread out on the floor. You can view lots more of their beautiful wigs on their
Facebook page:
http://www.facebook.com/CandylandCourtesanWigs
That's it for this month!! Hope you all enjoyed the crazy candy-coated hairpieces. Halloween is just around the corner maybe you'll construct a sugar sweet wig of your own! Hope everyone has a great week and stay tuned for next month's inspiration post!