Hey everyone!! Well, it is time for my FIRST Holiday related post of 2012. If you celebrate Christmas or love gift giving, decorating, baking, etc I want to get you into the Holiday spirit!! And what better a time for artists to get some exposure then sending around their own custom cards for the Holidays!! So that's why this month's inspiration post is all about "Retro Holiday Cards!!"
Who doesn't love getting a card in the mail?? I have always love commercial art since I was a young child. Christmas cards like these are the kind that I grew up being mesmerized and inspired by. In fact when I was little I loved picking out what cards to give to people in our family but hated seeing them go in the post; I wanted to keep them all!! Keep scrolling for some of my favorite Holiday imagery on cards of yesterday!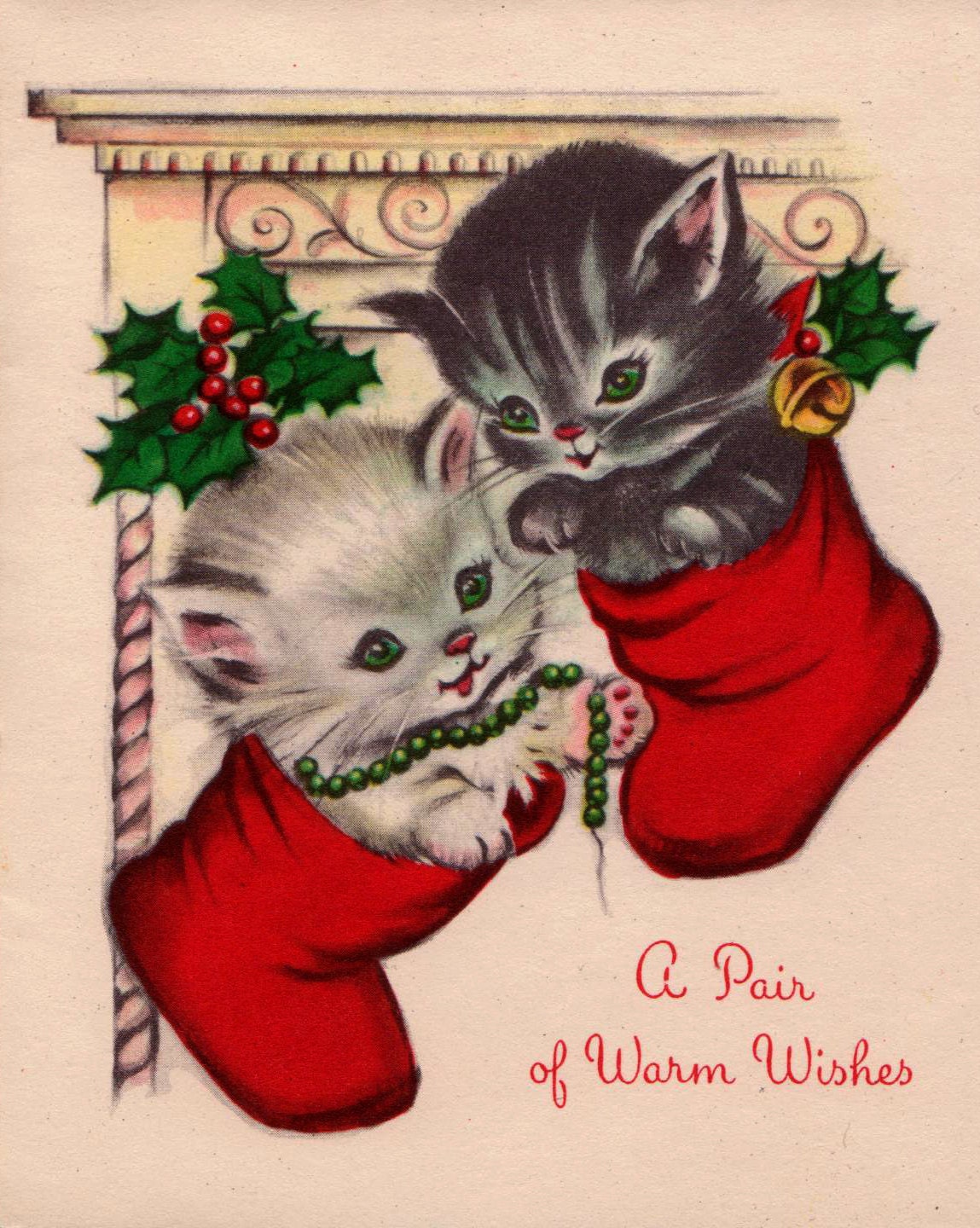 Cats love getting into decorations and these two kittens are just too cute!! Their giant heads and teeny tiny eyes and noses are just darling. If I tried to stick my own cat into a stocking and photograph him I'm sure the result wouldn't come out nearly as pleasant. But that's the beauty of this illustration, it is the perfect picture of curious kittens ready for the holidays!!
Although I am unsure of the original artist's name it is dated 1950 according to it's Esty listing.
I stumbled across this card on Pinterest looking for inspiration for the Holiday Helper magazine cover. It immediately became one of my favorites with it's sweeping style of illustration. The bright pink sparkling figure skating dress is so glamorous!! And you got to love the scared little bunny sliding across the ice. The added glitter as an embellishment really makes it shimmer and shine!! I especially like the fact that it's more of a winter wonderland with no glaring reference to CHRISTMAS. If I received this card from my mother I would treasure it for ages!! No idea who the original artist is though :(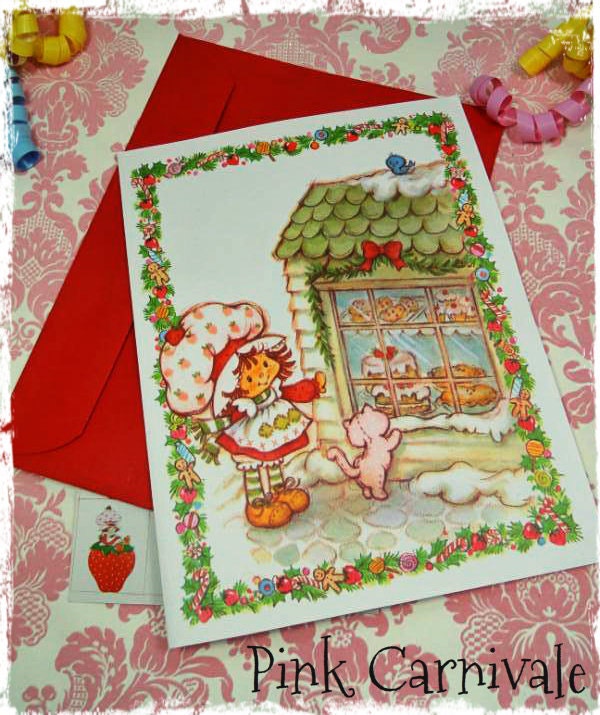 This card is from 1983 and if you are an 80s kid then you should recognize that pint sized little ginger girl on the front; it's Strawberry Shortcake!! Not only am a fan of this card because I grew up with Strawberry Shortcake but because it involves baked goods!! Looks like Strawberry and Custard, her pet cat have stopped on their stroll to eye up some cakes, cookies and cupcakes through the shop's window!! The attention to detail on this illustration is impeccable!! Even the border is filled with Holiday sweets like candy canes and gingerbread!!
This cute little snowman is in touch with his feminine side sporting a striped pink scarf as he lets his little birdy friend perch on his top hat! What I like most about this card is it's simplicity; the simple stylized pupils, the little tree with simple ornament balls and the small sprinkling of snow surrounding the outside of his portrait.It shows you do not have to go all crazy with details to execute a card design.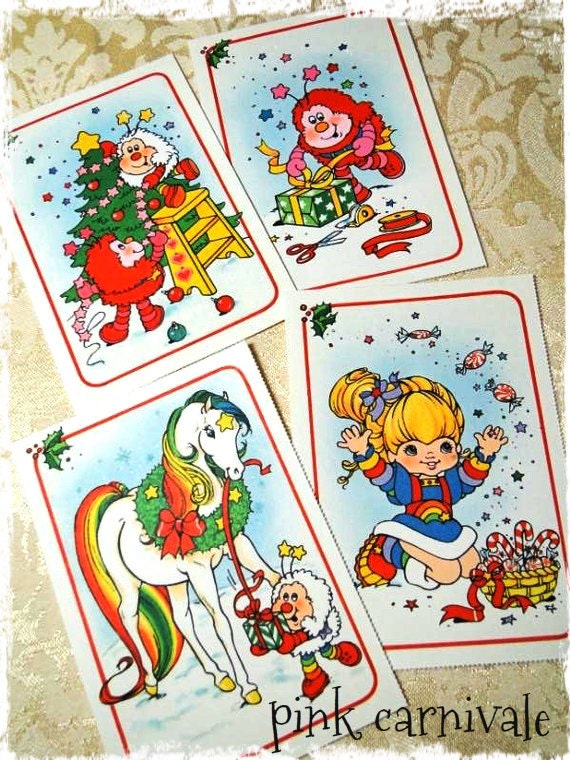 And the best for last!! Since I featured Strawberry Shortcake, I can't forget my absolute FAVORITE 80s girl, Rainbow Brite on her Holiday card!! These cards were printed as one single sheet and can be split apart by tearing along the perforated edge. I always wanted to be Rainbow Brite when I was little, riding around on Rainbow Horse spreading cheer and color to everyone with magical star sprinkles!! Here Rainbow Brite and her friends are getting ready for the Holidays, wrapping gifts, trimming the tree and just throwing and candy around for no reason.
That's all for this month everyone!! I hope these images inspired you to get a jump-start on the holidays. If you have never tried making your own cards before, why not give it a shot?? They don't have to be perfect remember this Holiday season, it is the THOUGHT that counts!! Hope everyone has a super weekend and stay tuned for next month's inspiration post!