Hey everyone! Just wanted to update the blog with something new. At the end of every month (starting out as just once a month) I want to post some things that inspire me that will hopefully also inspire you!!
This month's theme is cats!! I love cats. I have a cat of my own named Samus (yes after the video game character) and we have a total of 5 cats at my home! If that makes me a crazy cat lady then, oh well!
1) Cat Woman Drawing
I found this before on Google Images, and again uploaded on Pinterest. I'm not sure who created it but it is adorable! The stylized, cartoon nature is something that I am really into and inspires me when creating my own illustrations! If anyone knows who created this please contact me so I can link it back to the artist :)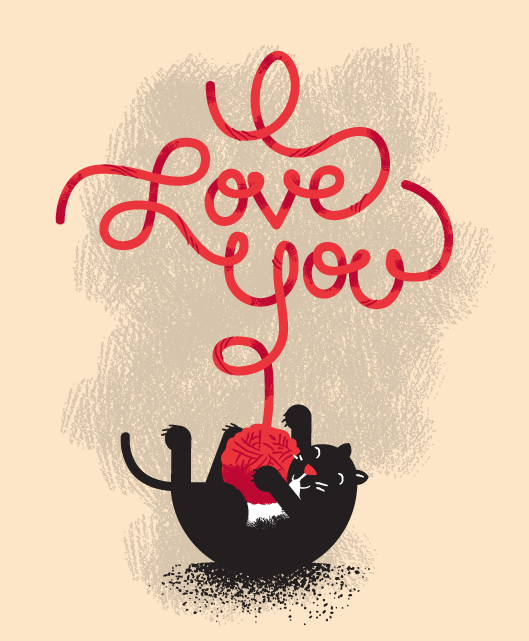 2) Ryan Clark -"I Love Yarn"
Actually saw this image on Twitter. Not only is a good example of illustration it's an excellent example of typography. This type treatment is too cute!! You can view more of Ryan's art on his website:
http://ryanvsclark.com/
photo via
Alephbet website
3)"Three Little Kittens" a Little Golden Book illustrated by MASHA
We actually had 3 copies of this book while growing up and I still keep a copy in my room to this day! It's a classic story with illustrations of dolled up little kittens on every page.
photo via
laura@popdesign Flickr
4)Jean-François Martin - Contes des chats
I don't know much about this illustration except that it what I believe to be a book cover. Another great example of not only illustration but also type. The piece itself only uses few colors to catch your eye displaying how less can be more.
photo via
HawaiiKawaii blog
5) Kuma Crafts- Cupcake Cat Earrings
http://www.etsy.com/transaction/53680818
Unfortunately these earrings are something that are sold out at the designer Etsy shop named Kuma Crafts. The concept is short of genius. Kittens? Adorable. Cupcakes? Sweet. Kittens that are ALSO Cupcakes?!?! I think my head just exploded with awesomeness.
Tune in next month for another set of inspiring pieces. I hope they motivate you to create as much as they do for me!!