Hey everyone! Just wanted to upload the blog with a really glamorous portrait I created. As you may or may not know, Tracy DiMarco from Jerseylicious recently got engaged!!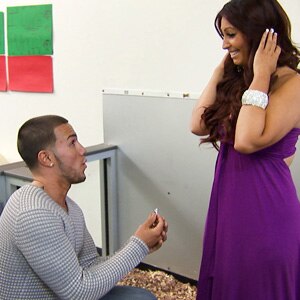 image via
MyStyle
Tracy is someone I always admired from the Style Network show, and as strange as it may seem for a small town girl from Pennsylvania, we have gotten to be great friends!! She has a real appreciation for art!! So when I heard that I got to make a portrait for her engagement I was super psyched!! Tracy was thinking of having a cartoon of her and Corey wearing matching baby blue outfits for their engagement party!
The portrait came out really great!! I made sure to pack it with lots of details. Sparkly, bling-ed out jewels and everything!!